LIVEWIRE ENERGY
If you're looking for the absolute SMOOTHEST and non-jittery, long-lasting energy supplement, look no further. Livewire Energy has completely changed the game when it comes to fueling your body for HOURS without having a terrible crash later. The best part is that Livewire Energy comes in a chew-able format with a variety of flavors and tastes great! Up to 120mg of caffeine PER CHEW is amazing considering how small the chews are and they are only 15 calories each! Imagine the POWER of a full energy drink without having to spend $3.00 per can because a pack of FOUR chews can be purchased for as low as $13.99 for 16 chews. That's less than a dollar per chew! Try that with an energy drink!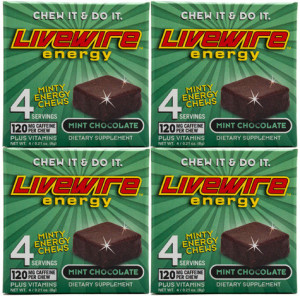 TELL ME MORE
Check out Livewire's website at www.livewireenergy.com today and see all of the awesome new things they are coming out with! They recently released a line of pro-biotics as well!
If you're into investing your money wisely, check out their stock as they are a publicly traded company! Their stock symbol is LVVV.
WHERE TO BUY
You can purchase Livewire Energy at the following places:
DIRECTLY FROM LIVEWIRE:
www.livewireenergy.com
OVER 600 VITAMIN SHOPPE STORES NATION WIDE:
www.vitaminshoppe.com
LWE DISTRIBUTION:
www.lwedistribution.com
SHOTS ENERGY:
www.shotsenergy.com
AMAZON MARKETPLACE: